Yesterday I went for my first ever tanning session at a tanning salon.  I'm trying to keep my summer tan until we go to Panama in late December.  The woman at the front, Dee, was extremely helpful.  She was friendly and didn't assume I knew anything which was nice.  She sold me a little thing for protecting my eyes, and didn't sell me tanning lotion.  She explained the options for purchasing time and didn't pressure me on any particular option.  She did, however, recommend that I purchase time on the stand-up tanning system because of my height; the beds would probably be challenging for me.  She might have actually been referring to my girth too, but she did it in such a way that I wasn't at all made uncomfortable.  She showed me the system which was in a very small private room, and explained that the fan to keep the heat down would be very noisy (which it was).  She recommended 8 to 10 minutes for a first session, and I chose 10.  So she left me to undress in the room and start the system.  It was kinda boring.  Standing looking at bright UV lamps through very dark eye pieces, and of course, with no where to go, no significant room to move, too much noice to listen to things in headphones, for ten minutes uninterrupted is boring.  The system shut down and I got out.  They provide a towel, but honestly it wasn't hot enough for me to break out in a bad sweat – just some very minor moisture on my forehead.  Next time I go, I'll take a photo and share it here.  When I got out, Dee asked me how it was, and that was it!  Simple, quick.  Now, a day and a half later, I can't see any difference, but I don't expect to after one short session.  Dee recommended 12 minutes as a normal session length, and two or three times a week.  I plan to go again on Monday.
Today, Melanie, Verity, Ocean and I went to our first family pottery class.  All three of them have been to pottery classes recently at the same place – I'm the newbie.  It was great fun!  It's a 3.5 hour session every weekend with a fantastic instructor, Cathy, who also had met my family before.  We did "slab" pottery.  Basically, you take a hunk of clay and pull it through a roller a few times to get it to be a thin slab – approx 5 mm thick in the case of mine.  The ladies made mugs.  I decided to do something a bit different: I made book ends.  Here is a couple photos of what I made – the clay is still wet so the color will be much lighter when they are fired.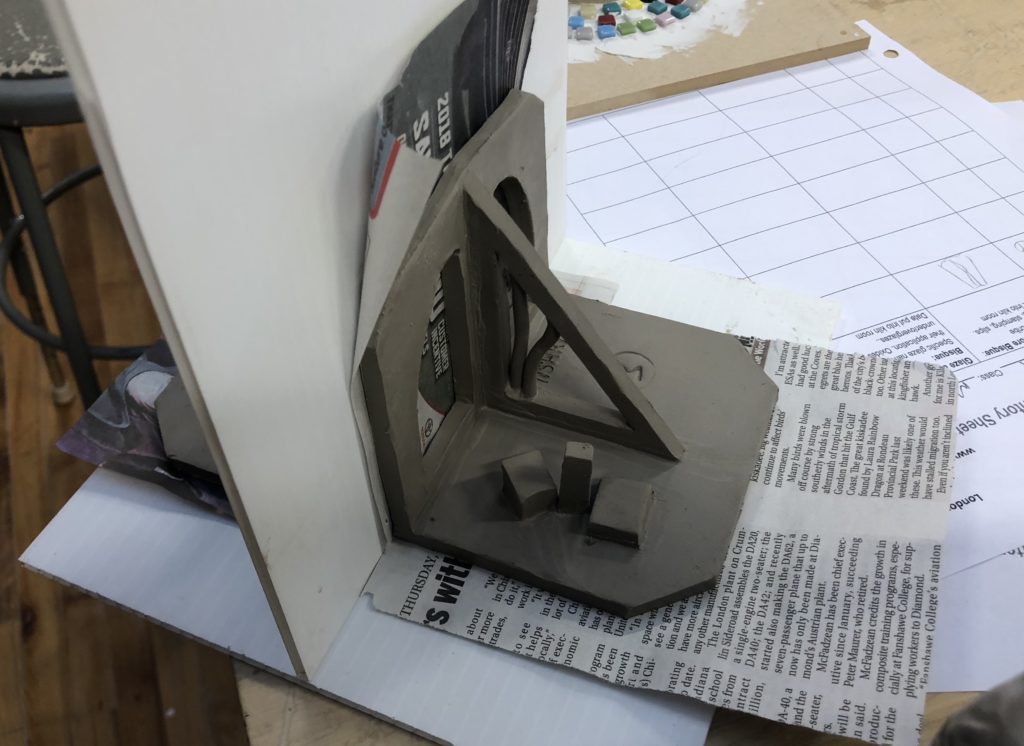 It took me pretty much the whole class to do them.  My next project will be to do something that is in the art nouveau style which I love.
In other news, my new assignment for Math 3020, is again super-hard!!!  Ug.